Aviation training management software MOMook introduces a new design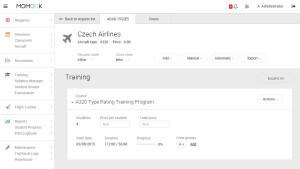 MOMook – the aviation training management software introduced a new design last week. It is already implemented in the MOMook system. The team behind the system wanted to have a unique style, which would differentiate them from competitors, but most importantly would be easy to use for the clients.
The whole team, developers and designers have put a special emphasis on making the system easy to read. Users may be looking at MOMook's interface for multiple hours a day, that's why it was a key point during the development process to make it as easy on the eyes as possible.
Those who have been using MOMook before, and got used to the old design should not worry, it has not been made into an entirely different thing, it was just made better. "MOMook has been developed in order to have an easier and more efficient training management. It has been designed to be used every day by every segment of employees in the company. This is why the latest focus of developers has been put to improve the design, and make it better, simpler, and more "friendly" to the eyes.", says Simas Godovan, Senior Developer for MOMook.
The unique look is not the only thing that sets MOMook apart from its competitors. "The system is very simple to use. You don't have to be an IT guru to get the hang of it, by no means. Also, the system is being further developed and improved to fit the needs of clients. The development team makes the software to fit the specific needs of your aviation training organization. That means that the client gets a unique solution developed just for them.", says Dainius Meilunas, the Head of Business Development for MOMook.
MOMook plans to have even more flexibility in the feature, be available on all of the platforms out there, and be even faster. They want to base their improvements on numbers, and hard facts about the system, so the more you use it, the better they will be able to make it.