MOMook in strategic partnership with Flyco to generate synergies and better service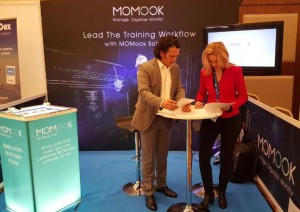 MOMook, an intelligent aviation training management software company, has recently signed an agreement with one of the leading names in aviation E-training segment Flyco Global Group to collaborate on its e-training solutions' integration to MOMook's software.
Under the terms of collaboration agreement, the parties will explore and develop strategic opportunities by implementing Flyco's CBT into MOMook's software. It means that from now all MOMook's customers can get a wider range of training services inside MOMook. More, in order to fulfill customer's needs, Flyco offers its training solutions along with MOMook's software combined in the same package.
Mrs. Egle Vaitkeviciute, MOMook's CEO, said the deal will strengthen MOMook's overall position in the marketplace: "This strategic partnership will be one of the key drivers of growth and value of the company. We are delighted with the newly established Flyco Group partnership which has delivered high quality e-learning contents for MOMook's software."
"Technology is becoming the backbone in almost all industries. Cloud and mobile technologies are already being incorporated into aviation industry. With this global collaboration we demonstrate that the future of aviation's theory learning is digital," Mrs. Vaitkeviciute summarized.
"In a world driven by mobility, cloud, and digitization, this enhanced cooperation puts our company even further ahead in offering the complete toolkit for customers," said Mr. Ergin Erdin who is currently acting as the Chief Executive of Flyco TS Group "We believe that partnering with MOMook will accelerate Flyco's learning content global reach. Furthermore, it gives customers unparalleled access to the content they require and provides an enhanced user experience."
Flyco Training Solutions Group, based in the UK with offices present in Turkey, Germany and USA and offers e-learning solutions, which are prepared by seasoned veteran aviation personnel, flight instructors and professionals. Beyond its well-prepared content, Flyco Group uses advanced technological systems to streamline access, security and availability to pilots around the world.