MOMOOK to launch a new solution – full flight simulator info terminal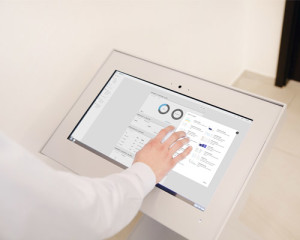 Aviation training management software company MOMook, in cooperation with the full flight simulator maintenance service provider SimHelp has implemented an innovative solution – full flight simulator's info Terminal.
The FFS Terminal, developed specifically for aviation training centers, is freestanding self-service equipment hosted in the flight simulators' area and uses touch screen technology to guide engineers, flight instructors, training managers, and CEOs through the flight training process within MOMook's software. It is designed to streamline simulator sessions efficiently by monitoring and managing training time as well as tracking simulator's condition in a smart way and from one environment.
The technology is already being used by aviation training academy BAA Training. Ms. Egle Vaitkeviciute, CEO of BAA Training, said the company's staff, from engineers to managers, has already seen the benefits of this technology.
"As our company has already integrated various technological solutions into its daily processes, we have decided to start using Full Flight Simulator's terminal as well. The new self-service Terminal technology makes the process of flight training effective, more accurate, convenient and requires less manual work," comments Ms. Vaitkeviciute.
"The Terminal's functionality monitors the entire training process, reduces paper work and keeps interested parties updated about flight training status as well as the simulator's performance and condition. Furthermore, instructors are able to see the defects simulator currently has as well as to print out the report or training analysis right after the session or fill in technical logs straight from the terminal.
Getting employees to do things electronically allows the company to manage daily workflow easily whether it is a large amount of flight device's maintenance or training sessions. The company can get a 360 degree view of the whole training process. This tool is certainly beneficial for everyone, from engineers to CEO," sums-up Ms. Vaitkeviciute.
According to MOMook's tech team leader Mr. Simas Godovan, nowadays self-service technologies speak for themselves: "Working in aviation and technology industry, we just have to look around the corner, for example, into telecommunication or banking industries, and try to forecast how aviation training market will change over the next years.
In today's marketplace, the self-service technology, whether it is management software, website, terminal or other solution, allows businesses to streamline transaction processes, reduce overhead, and potentially increase revenue", Mr. Godovan states.