MOMook to showcase its software at APATS'15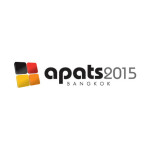 MOMook, an intelligent business and training management software, will be exhibiting once again at the Asia Pacific Airline Training Symposium (APATS) event held in Bangkok, Thailand on 15-16 September.
A team from MOMook will be showcasing its expertise in developing software for aviation training centers as well as the latest enhancements to its software. "The research and experience has shown that aviation training institutions have already started to take a proactive approach to business process automation and optimization. This creates a need for innovative IT solutions that could improve productivity and generate increased revenue," says Dainius Meilunas, MOMook's Business Development director. "As a result, we keep IT aligned with aviation training industry. Whether it's are daily tasks as planning, scheduling, monitoring or implementation of third-party application as flight tracker that was implemented not too long ago."
APATS is the largest and longest established independent trade event in the Asia Pacific region focused on aviation business solutions. Over 400 aviation professionals are expected to attend the APATS this year. Over the past three years APATS has attracted over 1,000 attendees from 70 airlines and 48 countries.
For the more information about MOMook, please visit us at Stand number 506 (along with BAA Training), Bangkok, Thailand. To preschedule a meeting with MOMook's representatives please email [email protected]