Simas Godovan: "MOMook is like having a smart-ass friend, straightforward, but the one you can count on."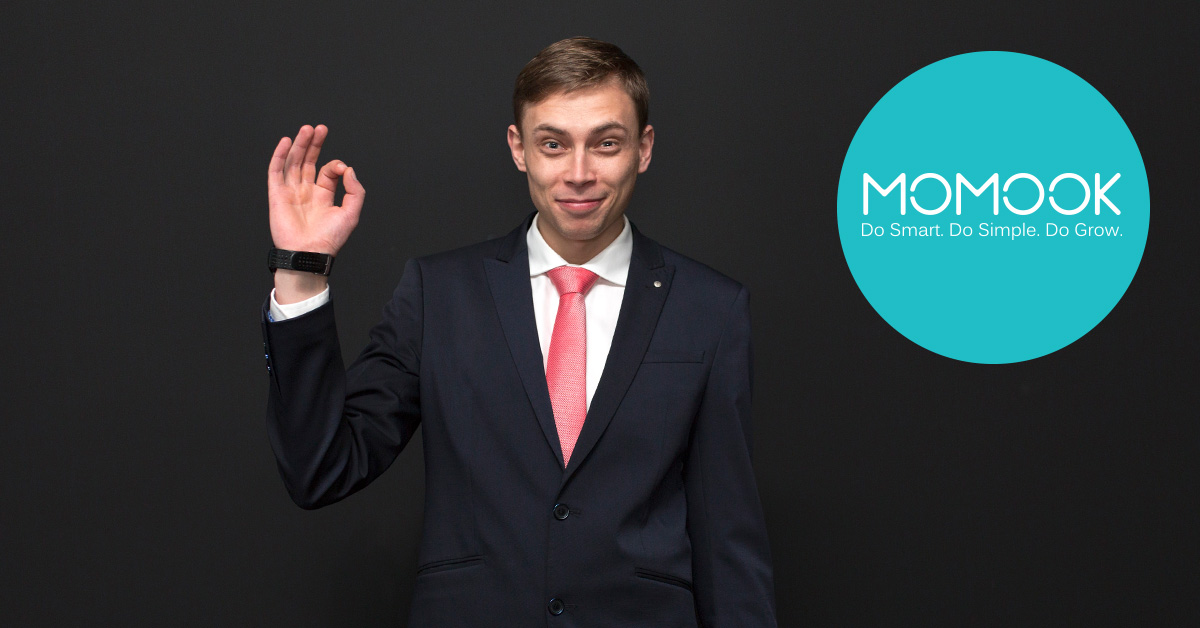 Aviation training needs are growing every year. Though it is great news for aviation industry players there obviously appears a struggle. How to be a training provider who is not only able to meet training needs, but also able to efficiently handle management of these trainings? Simas Godovan, the person behind the MOMook software, shares some insights on how they approach such challenges.
What is the story behind the creation of MOMook?
A good one, I could say. Like every journey, it usually starts with a few small steps. Back in the year 2010 those steps were taken by one of the leading ATOs, now known as BAA Training. The new initiative was taken seriously within the company. The goal was set to improve and enhance not only the management of training planning, but also the management of organization in general so that training manager day-to-day operations, thus quality of the delivered training, would be impeccable.
Gaining more and more velocity with the project, we did not notice, how a few weeks and months turned into a few years. The solution was successfully adopted and welcomed within the company. I can't say it was an easy change, since changes are never easy, yet at the end of the day implementing MOMook was rewarding. Growing training operations can stall the development processes and the quality if not addressed properly. Therefore, in my opinion, our biggest achievement at the time was a sane and reasonable approach to productivity in terms of what is the next most valuable thing we could build to improve training management.
And there it was, the "AHA!" moment. We started thinking: okay, we do have this solution to support aviation training organization. It does the job pretty well, it still has much space to grow, new ideas were just pouring… Wait: do other aviation organizations build their management tools as well? And it bursted NO! The majority of the organizations, then, and even now, do not identify software solutions as a possible enhancement of their operations, or do not have the opportunity to try those solutions. The decision was clear – our next goal formed naturally – extend our knowledge further and build software which could be implemented by aviation training organizations world-wide.
What are the main benefits of MOMook that all aviation training organizations could anticipate?
Talking about benefits, first I should emphasize the one you will not expect. A day will come, usually after a few months or so, when you look back to the daily operations before MOMook was implemented to your organization, and the question will pop up: "How did we run this before?". The moment of this realization will be priceless, and it should be celebrated meaning that you have improved your process handling to the point, where there is no coming back. And you know what? You will become hungry for more ways to improve it. And here, MOMook plays an important role of a listener – it will do everything for you to succeed. Having MOMook is like having a smart-ass friend, straightforward, as it has to be objective and rational, yet the one you can count on.
Each training organization is unique, but we notice trends where MOMook creates the most value. The first area of improvement is in the scheduling department, as the solution provides your training managers with the right tools to get rid of "pen and paper" approach. With MOMook you have one platform to schedule training, reserve instructors and notify students of their upcoming training. The system makes all the background checks, in order to have a quality training plan at first take. For example: the system checks whether the instructor you selected is free at the time, and the current training does not violate his regulatory duty time restrictions. Going into more advanced level: when the system has enough information about your training blueprints, it can generate the schedule automatically by just a few clicks setting the right parameters.
Another area, that we see being instantly improved is the structure how your training organization handles training management. Regarding your needs and organizational structure you can choose not only members of your team to have the access to the software, but also, what features they will be able to access, in other words – you create the rules of access. Having a unified system that binds your activities and teams is truly beneficial for growing organizations, where sharing information and making fast decisions is vital. Another example of MOMook benefits is a secure way to store and access all documentation related to the training material or student profiles since often organizations operate in multiple locations and sending everything through emails which is neither secure nor efficient.
Another benefit that should be noted is the unrestricted access to the system and all the resources within from around the globe. MOMook is a web-based Software-as-a-service, meaning that you have no limitation, unless you want them, to work from wherever you are. Be it a sales person that needs to create a service request for his new client, a traveling CEO to check on performance and statistics of how the organization is running, or the head of training uploading an updated revision of the training manual. The world is getting a smaller place to live in, and more demanding for your agility, thus we give you a solution to be mobile.
How does it work in practice? What is the process of MOMook's implementation in an aviation training organization?
We identify two types of clients: "interested" and "certain" ones. The "certain" are easy – they already know what they need and how to achieve it, usually initiative and roll-out plans are being pushed by them. With a bit of attention everything goes smoothly – we adapt and assist them as much as we can, for the most efficient implementation of the software. To put this into a perspective – a client can get a full access to the system in just 24 hours.
"Interested" clients are more challenging. Usually such clients have an idea of what they need, however, they do not have particular goals set. That way the process may get longer since it takes some time to filter the client's real needs. Therefore, for big and mature companies a reasonable period is 3 to 6 months for a full launch, but at the end it's worth it.
What the future holds for MOMook?
Just recently we have had a very extensive strategic planning period to align our visions and prepare for the next five years. We had so many ideas and feedback, it was really overwhelming experience, in a good way of course. We ended up with a lengthy list of initiatives and development plans. Compared to what we already have – the product growth is expected to be tremendous, both feature-wise and in quality. While I cannot disclose the full list of the improvements planned, as they have to be properly prepared, analysed and incorporated to fit the existing architecture, I can proudly say, we are aiming to be one the most impactful provider of aviation training management products out there.
Having a well-crafted and efficiency driven system is important. But at the end of the day it is not about the features, functions and buttons we have, but rather about the clients and people we work with and take care of. What we really miss right now is an external voice, correcting our path and letting us listen better to build what's next together. To change that, we will openly share our development road-map and milestones in our web-site starting from January 2018. The most important part is that you will be able to add your own suggestion for new features and others will be able to vote on them. Only together, step by step, we will create a robust and worthwhile solution.
Last but not least is the infrastructure, with all the invisible moving parts that enable our end-users to have great experience. As a Software-as-a-Service product MOMook completely removes the burden of infrastructure and its maintenance off clients, transferring it to us to handle. Our end-users rely on a secure, stable, high availability service, meeting aviation industry quality demands and best practices. To align our quality with our vision, we have to think globally, and as a result our service infrastructure is destined to become global. Geo-based infrastructure expansion into newly acquired client regions shall remain one of our priorities.